Information
[2020-03-19]
The following bug of Mercari has been fixed.
Error message "Page does not exist" was shown.
[2020-03-09]
The following bug of Mercari has been fixed.
Can not see an item page.
[2020-01-17]
Mail server of domain name att.net rejects our email.
Please contact the administrator of domain and send 2 - 3 emails to us via domain att.net (not using our contact form).
[2019-02-15]
Max. size of international parcel post to Spain was changed:
Max. length: 1.05m
Length + Circumference: 2m
[2018-06-13]
New Premium yahoo japan id will not be issued from June 13 JST.
[2018-04-21] Yahoo Japan Auction bid tool
Supported responsive design.
[Auto Bid] Open an auction page in this tool when you click an auction link in Watch and Monitor dialog.
[2018-04-07]
Please confirm your address book is not garbled since non alphabetic character will be garbled.
Item name of non alphabetic character will be garbled. We would like to fix it one by one.
Auction

Yahoo Japan Auction
Our services
Customs form
Your preferred declaration value and contents name
Packing
Free
secure packing way
Packing fee
Free
packing fee
Inspection
Free
Guaranteed inspection
except an item is genuine or not
Combined packing
Free
combined packing fee!
Payment method
Credit card
Paypal
Our services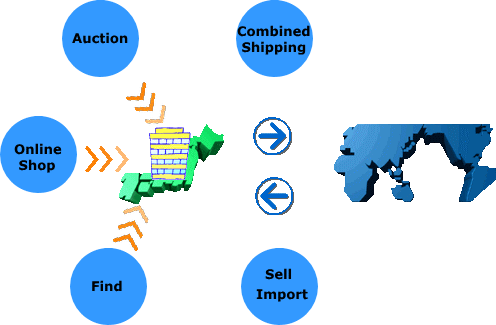 Japan-based shop run by a Japanese merchant.
Delivering items to you direct from Japan. Even if you could read Japanese,
you may find that most of the shops in Japan do not allow international shipping.
Why?
Because most Japanese shops either do not support transactions
outside the country or cannot communicate in English.
Our shop supports both English & Japanese transactions.
We will process all transactions in Japan completely and ship your item to worldwide.
Fast. Convenient. Safe. Your items delivered right at your doorstep.
Realtime translation of Japanese web pages to English available.
4964198 requests since Thursday 26 October, 2006
Copyright &copy 2006-2018 Japan Shopping Service