We accept orders for all online shops in Japan.

Do you need help to find item? Just asking is free.
Contact us.

ORDER STATUS
YOU
Japan Shopping Service
Find item
Pending
Make order
Confirm order and 1st payment
Processing
Contact and pay to seller
Receive item
Select shipping and packing
Select shipping and packing method
Packing
Send invoice
(Last payment)
Waiting last payment
Send last payment
Prepare shipment
Ready to ship/Shipped
Receive item
Ship item

How to make order
Step 1: Prepare item information
Please prepare the followin information per item.
Item URL, Price and Quantity are mandatory.
Item name: Max. length is 256 letters. English or Japanese is available. If url will exceed 256 letters, please write it in comments form.
Item URL: Max. length is 600 letters.
Item Price: Item price in Japanese yen
Quantity
Step 2: Select Online shopping support service
Order button in our header part -> Buy from online shop button
Step 3: Register your account or Sign In
In case that you have already signed in, this window will not appear. Proceed to next step.

For New Customers: Please register and proceed to the next step.

For Returning Customers: Please Sign In and proceed to the next step.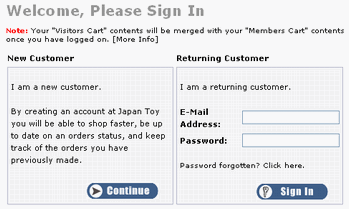 Step 4: Fill item information, delivery address, shipping method and packing option.
Fill the required informations and click to "Confirm order" button.

[Delivery address]
You can change the delivery address when you request to pack after we receive your item only in case you select the shipping method "Select after we receives item".

[Shipping method]
Select your preferred shipping method.
We recommend to select "Select after JSS receives item" option because you can select your pferred shipping method after we receives item.

[Packing option]
If you are not sure which option is better, select "Hold to combine with another order(s)" option.
You can decide to pack only this order or combine with another order(s).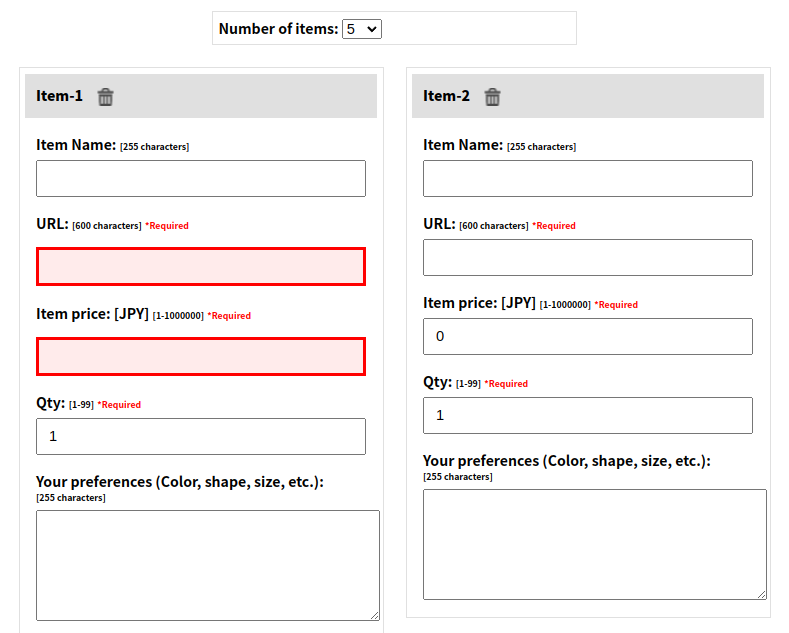 Step 5: Confirm your order
Confirm your order.

[Back button] Back to previous page and edit your order.

[Pay First payment button] After click the button, you will go to Paypal site and pay First payment by your paypal account balance or Credit card.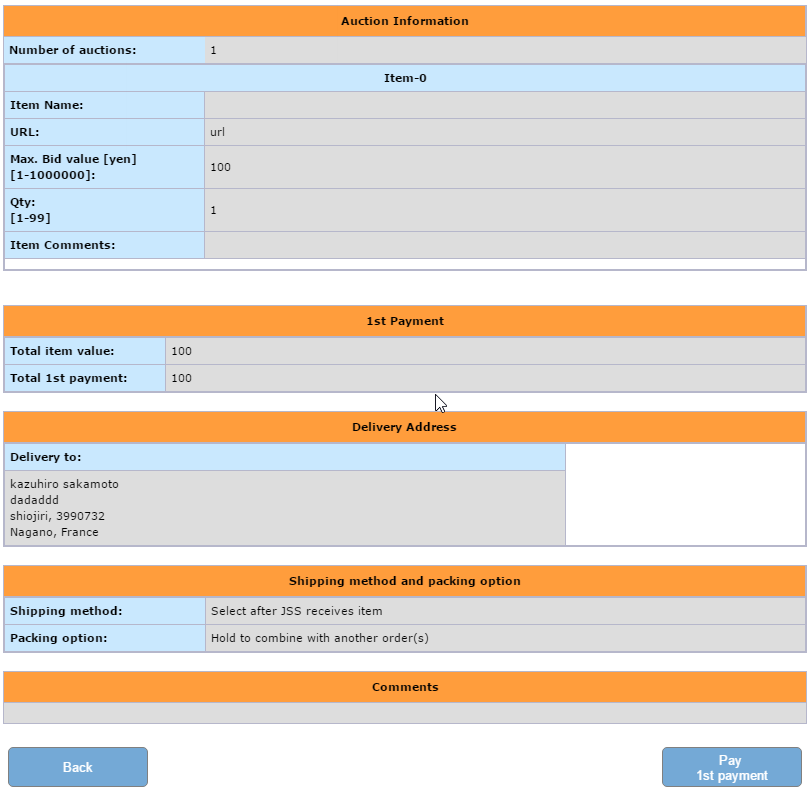 Step 6: Your order has been placed!
Congratulations!
Your order has been placed successfully.