[2021-09-29] Mercari tool and BIN option
Mercari tool is not working now. Please use offical Mercari site https://jp.mercari.com/.
Mercari BIN option is not working now. Please use Manul option. We will work to fix this issue in a week.
Mercari BIN option is resumed. Thank you for your kind understanding and cooperation.
Hotmail and outlook.com
Some our emails to Hotmail and outlook.com are rejected by their email server.
We are asking them to remove us from their block list. However, there is no reply from them.
Please use another email account if our emails are not delivered to you.
[Japan post office] Resumption of EMS Service to the United States and introduce additional fees for EMS addressed to Zone 2.
Japan post office will resume EMS service to the United States effective June 1.
Japan post office will also introduce additional fees for EMS addressed to Zone 2 (Oceania, North America, Central America, Middle East and Europe) effective June 1 because of rising transportation costs.
For details, please see
here
.
Information
[UPDATED][2020-08-22]
About the restriction of international shipping:
We can proceed your NEW ORDER as usual.
Countries(EMS/Airmail is Not available): We will keep your item(s) in our storage without our storage fee even if it passes 30 days until the restrictions of EMS/Airmail are lifted.
** Our storage fee will be charged only in case you request to pack your item(s) and passes for 7 days in state "Waiting last payment" in the same manner as before.
Auction

Yahoo Japan Auction
Our services
Customs form
Your preferred declaration value and contents name
Packing
Free
secure packing way
Packing fee
Free
packing fee
Inspection
Free
Guaranteed inspection
except an item is genuine or not
Combined packing
Free
combined packing fee!
Payment method
Credit card
Paypal
Our services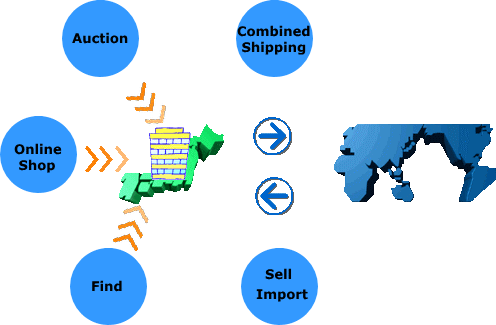 Japan-based shop run by a Japanese merchant.
Delivering items to you direct from Japan. Even if you could read Japanese,
you may find that most of the shops in Japan do not allow international shipping.
Why?
Because most Japanese shops either do not support transactions
outside the country or cannot communicate in English.
Our shop supports both English & Japanese transactions.
We will process all transactions in Japan completely and ship your item to worldwide.
Fast. Convenient. Safe. Your items delivered right at your doorstep.
Realtime translation of Japanese web pages to English available.