[2023-09-23]Shipping cost changes.
Shippig cost table of ePacket (=Small packet AIRMAIL REGSTERED and Small packet SAL REGSTERED) will be changed from October 1st JST by Japan post office.
Refer to
here
Parcel paid by September 28th PM3 JST is shipped out on September 29th JST.
You couldn't pay Last payment on our site from September 28th PM3 JST to October 1st AM10 JST.
Hotmail, outlook, live, saunalahti and yahoo.com
All of our emails to Hotmail, outlook, live, saunalahti, onet.pl, aim.com and yahoo are rejected by their email server.
We are asking them to remove us from their block list for 4 months. However, they does not delete us from the list.
Please try the following.
1. Use Gmail if you are using an email server not gmail.
Change your email address by Account button in our header part -> account information button.
2. Add jpshopping.jp and mail.jpshopping.jp to SAFE SENDER LIST of your email client software.
Safe list does not work.
Reward point program
Reward point program will start.
Points will be added for all orders starting on June 9th JST.
Points can use for Last payment from June 18th JST.
*It may be postponed. We will announce it.
Shipping method can be selected
Shipping method can be selected when you send Last payment.
This will apply for all packing requests starting on 29th May JST.
* Estimate shipping cost option was discontinued.
GW休暇中のお取引について
日本国内では4月29日から5月7日までGW休暇の為、お取引に10-14日程度の遅延が生じる可能性があります。
弊社はG/W期間中も通常通り営業していますが、休業の運送会社がある為お取引に遅延が発生します。
*GW休暇中に到着荷物が発送人に返送されることの無い様に手配してありますのでご安心ください。
*ご注文の受発注作業は通常通り可能です。
[2023-05-03]
FedEx Economy will be resumed from May 8th JST.
It will be available for a packing request starting on May 8th JST.
[2023-04-19]
Storage period policy was changed.
Storage period is mamimum 59 days (If you extend a storage period).
Refer to
here
about the detail.
[2023-03-27]
YAMATO chagned their shipping cost. New shipping cost will apply for all Last payments on March 30th JST.
Refer to
shipping cost page
about new cost table.
[2023-03-06] Yamato(UPS) to US
We don't support Yamato(UPS) to US from March 6th JST because UPS US lost many parcels and delivered many pacels to incorrect address.
If you wish to change a shipping method from Yamato(UPS) to another one, plase email us. We would change it without an additional cost.
EU Import Control System 2 (ICS2)
All goods being shipped into or transiting through the EU or Northern Ireland, Norway and Switzerland will need to have TARIC(HS code), and EORI (or TIN) from March 1st 2023.
This changes apply for all shipping methods by all shipping company (FedEx, Yamato(UPS) and Japan post office) to the EU or Northern Ireland, Norway and Switzerland.
Please refet to
here
about this changes:
Please refer to
ICS2
,
EORI (or TIN)
,
TARIC(HS code)
Your available shipping method
You can check your available shipping method by the following.
Please kindly understand we will not reply about your available shipping method.
1. Access to
Shipping method
2. Select your country
3. Click Check button
4. Available shipping method, cost and details are shown
[Japan post office] Resumption of EMS Service to the United States and introduce additional fees for EMS addressed to Zone 2.
Japan post office will resume EMS service to the United States effective June 1.
Japan post office will also introduce additional fees for EMS addressed to Zone 2 (Oceania, North America, Central America, Middle East and Europe) effective June 1 because of rising transportation costs.
For details, please see
here
.
2023年12月
日
月
火
水
木
金
土
1
2
3
4
5
6
7
8
9
10
11
12
13
14
15
16
17
18
19
20
21
22
23
24
25
26
27
28
29
30
31
Auction

Yahoo Japan Auction
Our services
Customs form
Your preferred declaration value and contents name
Packing
Free
secure packing way
Packing fee
Free
packing fee
Inspection
Free
Guaranteed inspection
except an item is genuine or not
Combined packing
Free
combined packing fee!
Payment method
Credit card
Paypal
Our services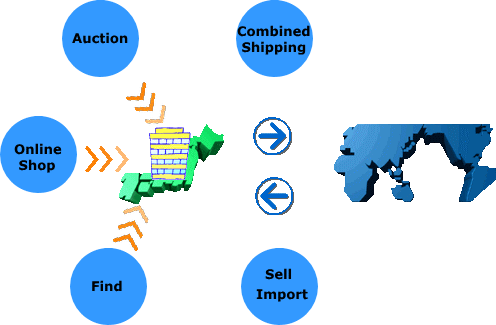 Japan-based shop run by a Japanese merchant.
Delivering items to you direct from Japan. Even if you could read Japanese,
you may find that most of the shops in Japan do not allow international shipping.
Why?
Because most Japanese shops either do not support transactions
outside the country or cannot communicate in English.
Our shop supports both English & Japanese transactions.
We will process all transactions in Japan completely and ship your item to worldwide.
Fast. Convenient. Safe. Your items delivered right at your doorstep.
Realtime translation of Japanese web pages to English available.